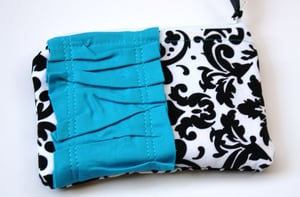 $

10.00
Fully lined zipper pouch will keep small things organized inside of that HUGE purse, or can be carried alone!
This pouch features a white/black damask with a turquoise lining and ruffle.
Great for:
coins, cash, and cards
lip balm and gloss
small sanitizer
iTouch, iPhone, Blackberry (does NOT provide protection if you drop it on a concrete floor, only keeps it from moving around in your purse)
Pouch is interfaced for extra support and shape.
Size:
Approximately 4" x 6"
Care Instructions:
Machine Wash and Dry Delicate Cycle (Yippee!!)