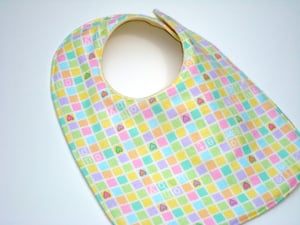 $

5.00 - On Sale
The side-snap bib! What an excellent idea! It makes it easier for Mom, Dad, and Uncle Bob to take off Baby who fell asleep after lunch.
Of course I've added an extra layer in the middle of COTTON BATTING which helps with absorbency! The great thing about flannel is that it is SO SOFT for your sweet baby.
Each bib has 3 layers:
flannel print (Cutie Pie Squares)
COTTON BATTING
solid flannel (light yellow)
♥Material is 100% cotton!
♥Items have been prewashed to avoid shrinkage
♥Machine Washable
♥Dimensions: approximately 5.5" Length(neck to bottom of bib) X 8" Width
neck has approximately 3.5" diameter.
I always welcome custom orders just send me a convo! Also, you can check out my other work at my blog: http://www.whitesatinribbon.blogspot.com to give you an idea for a custom order.
AND as always, your set will be tied with a sweet, white satin ribbon!
***This bib is discounted as a Bad Egg because the print is UPSIDE DOWN! Still functional and cute, just upside down.